Payment gateway
A Payment gateway is a technology used by merchants to accept credit or debit card purchases from customer by dropping to your e-commerce store and transfers money between your business bank account and the bank or payment processing entity or financial institution that manages your account is essentially a bank account for your business.
Benefits of payments gateway:
Can download an app on their smartphones to either send or accept payments completely electronically, securely, and immediately.
The most flexible system is provided by an online payment gateway to handle deals. From any online work stations you can handle exchanges rapidly and safely, without the requirement for any specific equipment.
Benefits for buyers:
Its faster and easier than checking manual payments for a credit card, It's safer than a credit card manual processing Customers and no need to go to your website and third party websites to make transactions.
Benefits for sellers:
Check your payment by credit or debit card faster and easier.
The payment gateway protects your credit card data with data encryption technology and information when customers make a transaction.
Online stores no longer need to provide multiple accounts from various banks as the payment gateway can accept funds transfer from different bank accounts and transfer them to one online store account.
It's fast and secure for bulk transactions because the payment gateway can process hundreds to thousands of transactions in a very short time.
User friendly because the payment gateway comes with a dashboard that helps the seller or buyer in the process of reconciling sales, such as sales reports, customer details, voids, and refunds.
It's safe for credit card users because the payment gateway has fraud detection technology that works to prevent online payment fraud.
How to process the payment gateway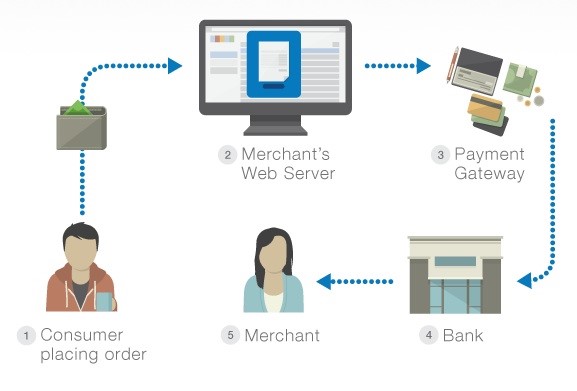 Online customers see and decide to buy the product based on the notice specified on the payment gateway source extension. The payment gateway will forward a notification to your bank's payment processor. The payment processor pays business information to the card issuing association used, such as Mastercard or Visa In the next case, the relevant bank will accept this request and provide a reply to the processor with a specific code and authorize whether the transaction succeeded or failed. The payment processor sends a message to the payment gateway and then forwards it to your website and cardholder for business details to be posted.
Advantage of the payment gateway:
Accept credit card
Ach payments
Recurring billing options (customers can get receipts of weekly or monthly payment directly sent to their inbox)
Secure processing (Help in preventing and dangerous result of getting data compromised.
Discuss Your Requirement With Our Team and Get Free Quote.