When you sit back and think about it, banks are often a huge part of our lives. We deposit our paychecks, take out loans, and set up savings accounts, all at a bank. But what do banks do? What are the different types of banks? Let's start finding some answers to these questions by looking at the different types of banks that make up a banking system. A banking system is a group or network of institutions that provide financial services for us. These institutions are responsible for operating a payment system, providing loans, taking deposits, and helping with investments.
Benefit of banking system
Anywhere banking no matter wherever the customer is in the world. Balance enquiry, request for services, issuing instructions from anywhere in the world is possible.
Pay your bills by online
In banking system u can easily pay by online you can use your bank's online site to pay your bills and protect yourself from having your check get lost in the mail. Most banks will have a section in which you set up payees. You will need to fill out the information once, and then you can simply choose that profile every time you pay a bill online.
Online banking
Allows customers to monitor accounts, download transactions, transfer funds between accounts, including checking and saving, management investments and handle loan activity including applications and repayments.
View Your Transactions
Online banking system allow you to view transactions that you may find out the amount of a transaction after you have lost your receipt. It also allows you to find out about unauthorized transactions more quickly, helping you resolve any issues right away.
E-commerce payment
If you are interested in buying plane tickets, hotels, electronic goods, books, accessories, clothes, games, and other payments, you can make payments using internet banking.
Bank program
The bank always give information the customers if there are new programs, such as investments, loan installments, deposits, and other programs. This you can find out through your bank's official website or internet banking site.
Features Of banking System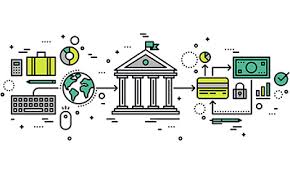 Faster transactions
Banking provides the facility of instant transfer of funds to its customers. It saves the time of customers as funds get transferred very fast from one account to another. Whole system of banking is automated & works over the internet. Transfer funds from one account to another or make deposits which saves alot of time and money for you.
Reduce Frauds in Transactions
Banking provides the continuously monitoring of accounts. You can easily track each & every transaction of your accounts. You can easily track if any fraud is done by anyone in financial transactions.
Other then that banking features also
High level of security, safe and secure banking.
No need to keep cash with you all the time
Easy and instant loan
Banking where you like
High performance and flexibility
Internet Banking
Internet Banking is the latest Banking service that allows customers to make transactions via the internet using a computer / PC or PDA. Transaction features that can be done the same as Phone Banking are service / bank product information, account balance information, book-entry transactions between accounts, payments (for example credit cards, electricity, and telephone), purchases (al vouchers and tickets), and transfers to other bank.The advantage of this channel is the convenience of transacting with a complete menu and information display displayed on a computer / PC or PDA screen.
SMS Banking
SMS banking is a service that is basically a further evolution of Phone Banking, which allows customers to transact via mobile phones with SMS commands. Transaction features that can be performed are account balance information, book-entry between accounts, payments (credit card, electricity and telephone), and voucher purchases.
Discuss Your Requirement With Our Team and Get Free Quote.